AEPS Software Developer
Multi Recharge Software
Some Important Features
 Websites, Softwares, Android Applications, IOS Application
 Easy way, Safe, Secure, Trusted .
 Business Development Services, Marketing Services
 Unlimited Master Distributors.
 Unlimited Distributors.
 Unlimited Retailers.
 Unlimited API Users.
 Unlimited Virtual Balance.
 Integrate Unlimited API.
 Your Name Website .
 Your name APP (on Google Play Store ).
 Support Ticket Option.
 Robotics System .
 Set commission According to You.
 24/7 support
Features of AEPS Software Developer :-
PayRupees Admin have full control to create or change its channel members (master distributors/ distributors/ retailers)
Transfer funds to its members and able to control funding actions for the members.
Switch API operator or API wise, according to their choice
Manage each operator and able to blog particular
Alert notifications to its channel members
Send bulk mail or SMS to its member. Admin have rights to change its all member's commission.
Customers can pay through Net banking, crediServices offered in Multi Recharge SoftwareMobile Recharget card or debit card facility as per their convenience
Recharge Services

API interface Stands for "Application Programming Interface" which is a convention (set of principles and controls).

Money Transfer

Domestic Money Transfer (DMT) benefit is an enormous market in India which got much more lift with current increment in advanced exchanges.

BBPS

Bharat Bill Payment System facilitates the installment of bills and enhances the security and speed of bill pay.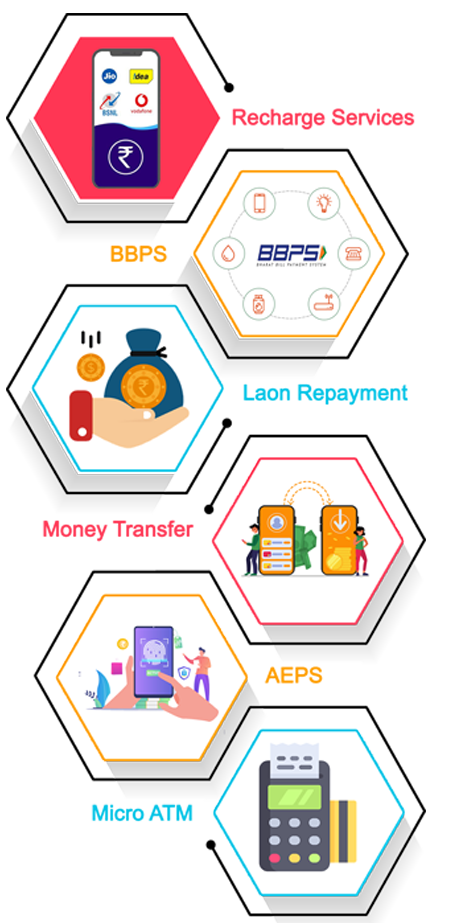 AEPS

Aadhaar Enabled Payment System (AEPS) is a sort of installment framework that depends on the Unique Identification Number and permits Aadhaar card holders.

Loan Repayment

Rpayment is the act paying back money previously borrowed from a lender.Typically, the return of funds.

Mini ATM

We have a solid arrangement of POS administrations, which enables clients to effectively pick and pick the coveted administrations for meeting their business destinations.